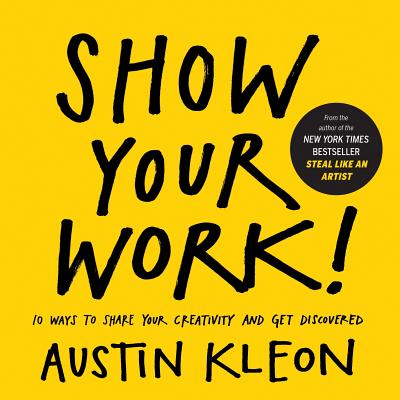 A frustrating reality of creative work is getting that work out in the world. Despite an array of free ways to do that, most creative people would rather spend their time – you know – creating rather than talking about it. Show Your Work!: 10 Ways to Share Your Creativity and Get Discovered by Austin Kleon offers realistic advice about how to promote your work in authentic ways that don't rob you of precious creative time.
Like Kleon's previous book Steal Like an Artist, Show Your Work! is a quick, easily digestible read. The brief chapters get to the point with content bolstered by quotes from famous creatives and simple but effective visuals. He provides practical tips on talking about your work, connecting to your audience by revealing the process, and learning to take a punch.
This book is not, however, a social media how-to, telling you exactly which platforms to use and how to navigate them. Though Kleon makes brief references to specific sites, he doesn't walk readers through them. With social media specifications constantly in flux, providing them in print form would have caused the book to be dated quickly. Find up-to-date social media cheat sheets online, and let Show Your Work! stay on your shelf, ready for any time you need general tips and inspiration.
Show Your Work! is a perfect counter to the numerous online articles telling you how to get more followers. Kleon wants creatives to get discovered without shortcuts. He encourages readers to be honest and authentic, to use what they know to teach others, and to avoid becoming "human spam." This book is a welcome reminder that you don't have to spend tons of money or sell your soul to get noticed. Just do good work, and share it.