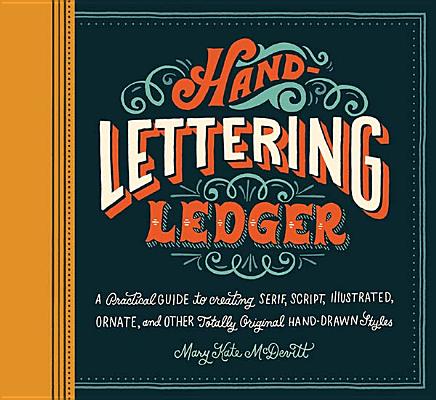 Whether you're a graphic designer in need of an alternative to typography or an artist seeking a new creative skill, hand lettering is fun option for making words come to life. Hand-Lettering Ledger by Mary Kate McDevitt is a solid introduction to this craft, providing basic rules plus loads of samples in various styles from sans serif to script and black letter.
More than a reference material, Hand Lettering Ledger is also a workbook packed with space to practice your own lettering. Some pages are mostly blank, prompting readers with samples from categories such as ligatures and apexes. Other pages feature the alphabet written once in a specific style followed by ruled spaces for your own alphabet, enabling the type of repetition necessary for honing lettering skills.
The book could, however, be heavier on instruction. While it starts with helpful fundamentals, the bulk of the content is light on nuance. The instructional text of the step-by-step sections are largely copied and pasted with specific tips here and there. I would have loved more notes on unique details to consider while constructing certain types of pieces.
Nevertheless, what this book lacks in instructional text, it makes up for with strong samples. McDevitt's show-don't-tell approach effectively provides the basics of lettering alongside fun examples. Hand Lettering Ledger is a useful and enjoyable starting point for those taking on this new artistic skill.
Dive deeper into hand lettering by taking Mary Kate's classes on Skillshare.